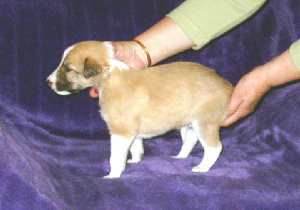 only a few weeks old in this photo
WindDancer Tocho Allagante (stats)
Sire = Allagante Suzie Q's Racer
Dam= Kristull Y-Not
Height: 21+3/4"
Weight: 31 lbs
Color: clear red
Markings: Irish Marked
DOB: 03/12/2005
MDR1 tested Clear
CEA tested Clear

Cerf test normal
Cardiac test normal
Thyroid normal
Int Rartites Champion (2007)
ISWS Rarities Champion (2007)
Tocho and Karen at Boofest 2005
Photo taken by Lori Silvestri
As soon as we saw his baby pictures we hoped to someday be able to be a part of this little guys life some how. When Judy and Dana Henderson offered us the chance to own him we jumped. He is as wonderful as we would of hoped for.

Sometimes we forget that Tocho is still basically a puppy. But as you can see in the picture below his puppy ears do not always know which way to go!
Tocho is a lovely blonde red color that is completely gorgeous. It goes so well with his gorgeous temperment. He is a total sweetheart at all times. I wish all the rest of the kids were this sweet and never getting into any trouble.
As you can see Tocho's total love of life comes running at you all the time. As you can see from this picture how totally happy Tocho is with life. It is wonderful to have a dog that is soooo happy all the time. He has stolen a big hunk of our hearts for all time.
as you can see Tocho growing up-- Silkenfest 2007
On the 4 days it took to drive to Silkenfest 2007 (

click here for our Blog of the trip

) Tocho and I bonded in a very special way and I love this little guy more then ever. He took 3rd in a very spectacular open dog class. Many people came by afterwards and told me how wonderful he moved and how lovely he is. We agree with those words too!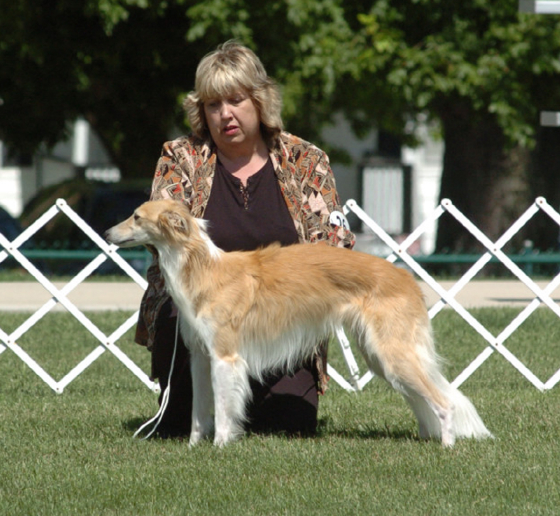 Tocho is a very funny and silly boy. He loves to talk to me and tell me all about his day. He is not a barker but a talker. Usually with a chew bone in his mouth and with a sparkle in his eyes tells me what a glorious day it was. He loves to play and can play for hours. Since our trip he also likes to curl in my lap for a snuggle. Something he never did before.