Keelin
Keelin Double M
Call name = Keelin
Registration # 2008-217/04

Sire= WindDancer Tocho Allagante
Dam=Debs SmallWorld Misty Fjord
Height: 20=1/2"
Weight: 29 lbs
Color: clear blonde
Markings: self
DOB: 5/1/2008
MDR1 = Clear
Keelin came to us at about 12 weeks old. He took one look at me and decided I was his person. Nothing has ever changed his mind since. He feels life is all about Keelin and since he wants me, he should have me. As long as there is no door to seperate us he seems pretty content to run outside and play or play in the house. But he still comes in to check on me to make sure I am okay. But close a door between us and he is very unhappy. Since he is so sweet and loving it doesn't seem to bother me much.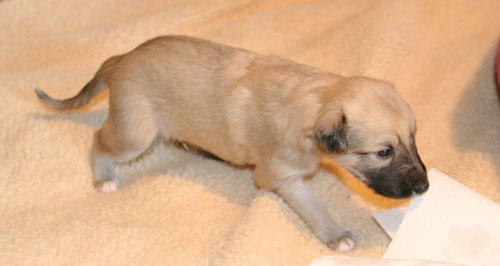 As you can see from Keelin's puppy photo above that he too was born with a black mask. Almost all black mask disappear from Silkens as they grow up but it does give them dark pigmentation in the nose and eye and lip area that is quite gorgeous. Tocho threw this genetic feature into many of his pups.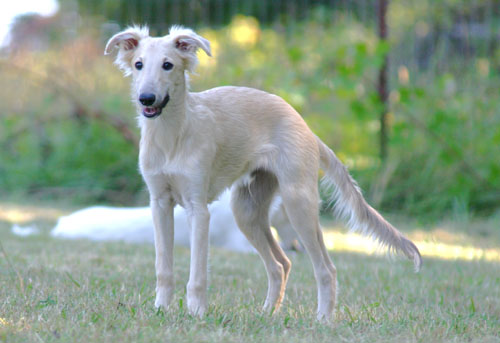 Keelin was an adorable puppy as most puppies are but even at that age he understood his calling as my velcro dog. He feels I can not get along without him and he lets me know several times a day that he is by my side and not to worry. Keelin is a toucher and wants and needs touching throughout the day. Even at night he must sleep touching me.