Allagante Luna Chiana (stats)
Sire= Windspirit Apache Allagante
Dam=Kristull Dabisha Apache
Height: 21+1/4" tall
Weight: 30 lbs
Color: blue fawn brindle
Markings: Extreme white
DOB: 5/28/2003
MDR1 tested Clear
CEA tested Clear

Rarities Champion
ISWS Champion
multiple BIS's
multiple Supreme BIS's
2008 SilkenFest BOS
Allagante Luna Chiana picture pedigree
Why is it everytime Chiana wins or I take her picture she is "out of coat" and I never think about taking a picture when she has her full coat? Well it doesn't seem to matter to the judge with her clean sweeping lines, she does tend to win the judges eyes on a regular basis. This time was very exciting for us since it was at the National SilkenFest of 2008 in Grandby, CO. she brought home the title of BOS.
She lost to her father, our Apache, who took the BOB. We were not sure if she would show well since Paul was showing her and she normally only wants me to handle her in the show ring but I was showing our Apache and we decided Paul would show Chiana at this show.
We love our girl and she will always remain as my house princess.
Chiana winning BOS at 2008 SilkenFest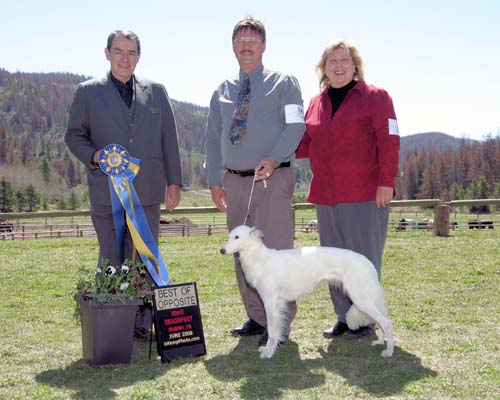 Chiana is a beautiful sighthound and it almost seemed effortless, the way she won her championships. Recieving numerous top awards including Best in Shows and 2 Supreme Best in Show at NCA shows, she does it all without missing a breath. She has the most expressive eyes and usually the male judges all fall for her. However Chiana's passion is not for showing but for running. She can outrun and outmanuver every other dog on our place. It is almost hard to keep any weight on her due to the fact she loves to run and run and run. She is going to start lure coursing this next year.

Chiana is an extreme white Silken. The only color is on her ears and one small spot between her ears. The color was silver at birth and now is a cream color with a slight trace of brindle.

Chiana has had two litters and we are looking around for that special male for her 3rd and last litter and have not yet found him yet. With a two new litters this year I hope I have bred a male to deserve this beauty!