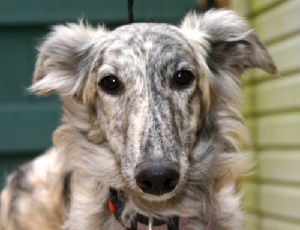 Seiran Ayame Windspirit (stats)
Registration # 2005-154/05
Sire= Kristull Rowan
Dam=Kristull Quetzel
Height: 22+3/4" tall
Weight: 32 lbs
Color: silver fawn brindle
Markings: self
DOB: 5/03/2005
MDR1 tested Carrier
International Rarities Champion
ISWS Champion
Hillevi is co-owned with our friend, Lucille Meale of Windspirit Silkens. We both appreciate the beauty, grace, movement, and temperament that Hillevi possesses and hope to bring these qualities forward into her future litters through the selection of wonderful males to complement her.
Hillevi's color is the first thing anyone notices. It is very striking and just plain gorgeous. She just stops you in your tracks. Very few Silkens even have this "look" and we hope she will also reproduce it in her future litters too.
Hillevi has only been shown twice. Once as a puppy 12 to 18 month at Silkenfest 2006 and won her large puppy class. In the next couple of pictures of her showing at one year old you can see how pretty she was back then and she is only getting better!
Below are the pictures of Hillevi at 2 years old at the Silkenfest 2007 held at Purina farms in Grey Summit, MO. She just keeps living up to her promise to get better and better. Her fantastic movement showed through and once again won her class- a large and spectacular open bitch class. She ended up with Reserve Winners Bitch for the day. Although we felt she was the ultimate beauty of the show<grins>!
Hillevi at Silkenfest 2007
Lucille and I are so very pleased with Hillevi, as you can tell by our big smiles on this show picture. Hillevi has lived up to her promise as a puppy and we both can not be more pleased.
However after it is all done and finished at the show ring, Hillevi shows there is no place like home and loves to relax at home and is the loving beloved family pet for all to enjoy. What a wonderful testimate to Eija of Seiran Hounds of Finland who is the breeder of this fantastic bitch.
Hillevi had her first litter on 4/13/2008 and had 4 lovely boys which was our designer litter which you can look at by clicking on

Designer Litter

. The picture below was taken only one week after giving birth. What a beautiful girl!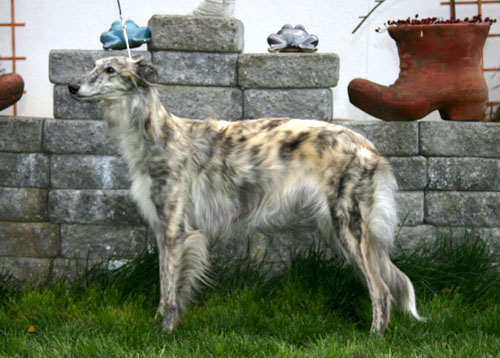 running at SORCA races in Cottage Grove June 2009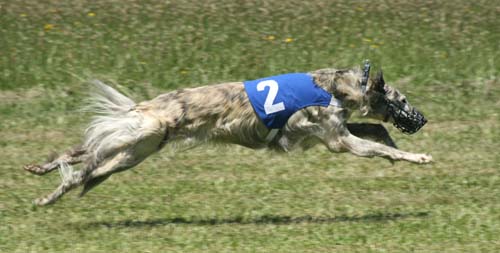 Hillevi in a playing mood
photos taken by Jeffery Yen
Hillevi in a playing mood
photos taken by Jeffery Yen
Hillevi in a playing mood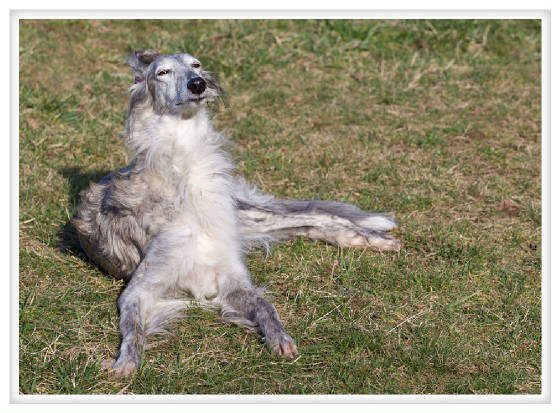 photos taken by Jeffery Yen