aka "Temora"
Allagante Temora (stats)
Sire = Allagante Chinook Winds
Dam= Allagante Elana
Height: 21"
Weight: 28 lbs
Color: Fawn
Markings: spotted on white
DOB: 10/14/2008
MDR1 tested Clear
CEA tested Clear
Titles:
ISWS FCH

Temora although my running fool, has already taken a 5 point major at NWFest in 2010. At that same NWFest she won the Lure Coursing trail over 21 Silkens. She is a force to contend with.
She also did extremely fine at straight racing too. She is such a running. Although she does like to sleep under the covers at night and life is over as we know it if she can not.
After NWFest was over in 2010 she continued to race great but then she had her first heat cycle. After that Temora couldn't run or even keep her head in the game. She was not running most of the rest of 2010.
Temora is starting out her oval racing this year with a bang. As you can see below she is leading the big boys ( shown with her red and white brother, Garis) Jeffrey Yen photographed her pushing the limits again. We hope she continues and her next heat cycle will not slow her down again.
photo by Jeffrey Yen
photo by Jeffrey Yen
photo by Jeffrey Yen
photo by Jeffrey Yen
No matter what happens this year my little rocket is always going to be my baby. She loves to be the bunny and have the rest of the pack run after her. I have not had such a female racer since my Chiana. It will be fun racing her this year.
After our Temora chases the lure she then helps by bringing her prize back to the starting line for us. What a good girl!
photo by Jeffrey Yen
Temora loves to play with her littermate Xena. They will run and play for hours.
photo by Jeffrey Yen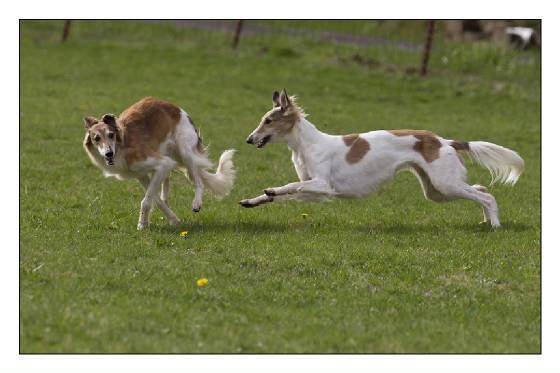 photo by Jeffrey Yen