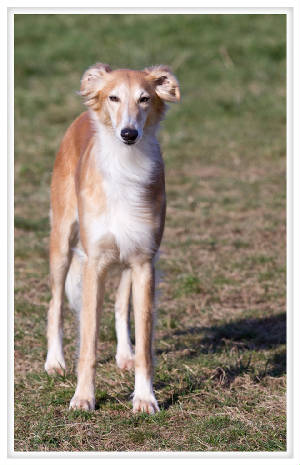 Mira ( photo by Jeffery Yen)
Raincoast Allagante Miracle
Call name = Mira
Sire= Allagante Habanero
Dam=Allagante Raincoast Cleopatra
Height: 22"
Weight: 38 lbs
Color: clear red
Markings: Irish Marked
DOB: 9/17/2009
MDR1 Clear
CEA Clear


Miracle was so named because she was stuck in the birth canal for many hours before she was whelped. It was a miracle she was still alive when they finally were able to get her out. We were all so thank such a beauty made it. Ron and Harriett of Raincoast Silkens were the breeders of this beautiful litter and currently we all co-own here now.
Mira has a gorgeous red coat. It absolutely shines in the sun. Mira is a little shy but very loving dog. Although she love to be at home with her family. She adores her people and loves to be loved. She normally a very happy girl. She also loves to play with the other dogs.
action photo taken by Jeffery Yen
Mira is the big play hound around here. And her favorite game is rabbit and she wants to always be the rabbit. Sometimes I think she is being picked on and will stop the play but she will torments the dogs til she can get them to run after her again. Nothing she likes better then to whirl and snap and have them try and catch her. Even large groups of dogs as you can see in the below picture. As you can see they use a lot of teeth with each other but no one leaves a mark. It is more noise and teeth then any actual bites. Seeing the below photo always makes me be glad they do not mean any of this.