What a face!
Windspirit Apache Allagante (stats)
Sire = Den-San Belgium Windspirit
Dam= Kristull Nakayla Windspirit
Height: 21+7/8" tall
Weight: 32 lbs
Color: Red Brindle
Markings: Irish Marked
DOB: 01/23/2002
MDR1 tested Carrier
CEA tested Clear

CERF tested normal
Cardiac tested normal
ISWS CHAMPION
RARITIES GRAND CHAMPION
(only 3 Silkens have ever achieved "GRAND" CH)
RARITIES AMERCIAN CHAMPION
RARITEIS CANADIAN CHAMPION
RARITIES INTERNATIONAL CH.
Multiple BIS's
Multiple Supreme BIS's
ISWS GRAND CHAMPION
(only Silken to ever achieve this)
1st & only NAKC SUPREME GRAND CHAMPION
ISWS FCH
ISWS SCR

2002 Silkenfest puppy winner-6 to9 month dog

AKC Judge--Barbara Ewing

Judges comments: Irish marked brindle dog, very elegant with sweeping lines. He had lovely side gait and was good going away, although he moved a bit narrow in front, typical for his age group. Maturity and the additional substance that comes with it will only enhance his quality.

2003--won 2 out of 3 of his coursing races

2003 Best in Show at the Western Regional Silken Specialty

Judge-Kris Brolin

2004--Won his Rarities championship in March

2004--Was the 2nd dog ever to acheive an ISWS Championship

2004 Rarities top Silken in the country

2005 won Best in Show at the rarities Oregon Classic

2005 Achieved the title of Rarities GRAND Champion

From 2005 on many BIS and BISS

2008 won BOB at Silkenfest 2008

2008 Wins HP Veteran in straight racing at SilkenFest 2008

2008 1st Silken to acheive title ISWS GRAND champion

2008 1st and only Silken to acheive title of NAKC SUPREME GRAND CHAMPION

2009 becomes CQ for lure coursing

2010 Apache at 8 plus years old continues to race and, course winning his first oval race point and more firsts in LC

2010 Apache achieves his field championship in lure coursing

2010 Apache acheives his SRC (straight racing championship)
Apache at NWFest 2010 (8+1/2 yrs old)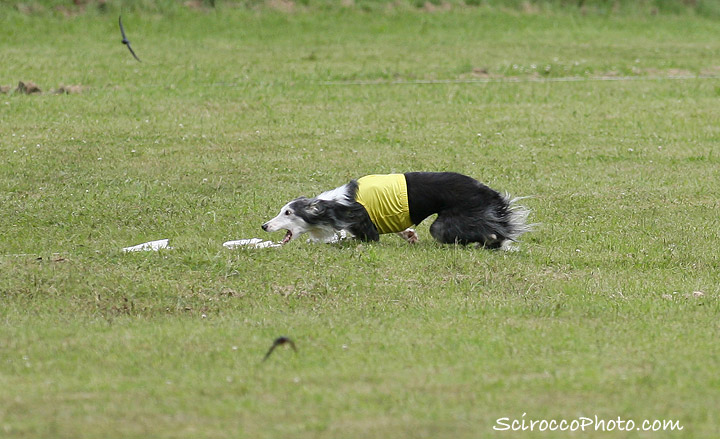 Apache winning BIS at SilkenFest 2008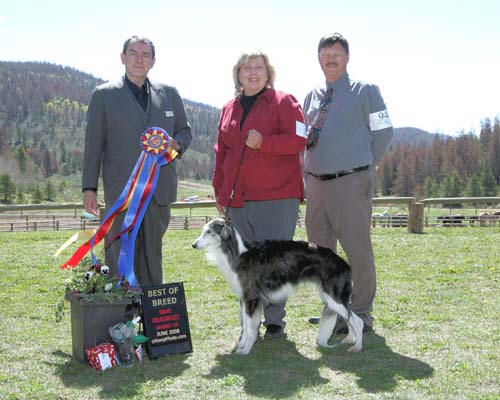 Apache can still race at 6+1/2 years and became highest scoring veteren Silken at SilkenFest 2008
When Apache is not playing show dog, you can usually find him out in one of the pastures playing or in the house curled up taking a nap. But no matter what he is doing, his coat always looks fabulous. I hardly ever even brush it. He is like a cool Cary Grant in personality. He is a love to live with.
Apache loves toys. It would be his wish to have a new toy every day to play with. He never tears them up but loves to play with toys completely. And he knows what items are toys and what are not! One day a little boy came to visit and he had a Spiderman toy with him. Apache had never seen a Spiderman doll before but he just knew it was a toy. Apache never takes anything from anybody but he wanted that toy. Badly! Apache kept trying to steal the toy from the little boy and the little boy did not want him to have it. It was quite a game between them.
Apache is very photogenic and is usually looking very elegant and regal. He is anything but! Apache can usually be found in any antics or highjinks around the place. The look on his face is pure enjoyment. He loves to be in the middle of everything. Apache is also a social butterfly. If I take a collar out to take the dogs anyplace, Apache is the first to try and stick his head in it as if saying "pick me! pick me!". He loves to go for a drive, a walk in the park, or even going to a dog show. As long as he can go and be with us then all is right in his world, and is crushed if you leave him out of any event.
As you can see below at 5+1/2 years of age Apache is still going strong. He tied for 6th place out of 43 dogs at Silkenfest 2007. For more racing photos click here "

Racing photos

".
Apache racing at Silkenfest 2007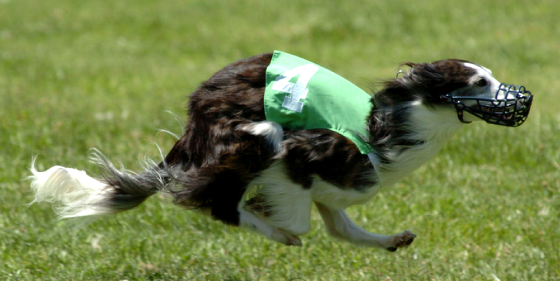 As I said Apache loves to go to the shows. The first year of showing we both had to figure things out but now he smiles and loves the rings. And when a dog loves it so much it comes out to the judges. In July 2005 he showed in 4 Rarities ( all over 100 dogs entered) shows and took one Best in Show and one Reserve Best in Show. We were so proud of him.